DE Green Amendment Hearings
The June 15 & 16 hearings held before the Delaware House Administration  Committee yielded powerful verbal and written testimony.  Ultimately the amendment was tabled without being given a vote, but with the potential that a second hearing will be held in the near future to continue committee discussion and deliberations and to potentially secure a vote.  Please stay tuned as we will need your testimony — verbal or written — when the time arrives.  To ensure you are prepared, you could already start to work on those comments if you like. Verbal testimony is likely to be limited to 2 minutes (potentially 1) but written comments are unlimited.
Here are some documents to help you consider the values of a Green Amendment as you prepare your verbal or written comments — whether you do it now or later.  Feel free to use any and all info:
RALLY FOR AWARENESS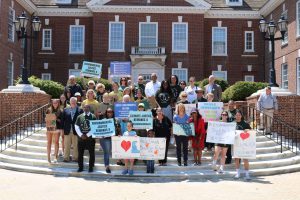 Thank you to all who joined us for our Rally on May 17th to support the right to clean water and air for all DE residents!
It was a great showing of support from around the state and across generations.
Sign Our Individual Petition
Sign on Your Organization
Sign your group onto the Organization Petition in support of a DE Green Amendment.
If you are a representative of an organization in DE that is supportive of advancing a DE Green Amendment and authorized to sign for your organization, then sign your organization here and encourage support from your members.
Organizations signed on include: Socially Responsible Agriculture Project, Sussex Health and Environmental Network, Green Amendments For the Generations, Delaware Riverkeeper Network, Plastic Free Delaware, Inc., Zero Waste First State, Extinction Rebellion Delaware, Beaver Valley Preservation Alliance, Save The Valley, DEEVA-Delaware Electric Vehicle Association, Citizens' Climate Lobby of Delaware, Climate Reality Project: Newark Delaware Chapter, Delaware Audubon Society, Delaware Working Families Party, Green New Deal Network, and Delaware Food & Water Watch.
Encourage Others To Sign the Petition
Help us to build awareness and support by sharing the petition link on social media, or print a copy of the petition and take it with you to work, coffee shops, social gatherings or events, and ask others to sign the petition too. Once you have a completed sheet, be sure to mail or scan and email copies to GAFTG@forthegenerations.org. You can print a copy here.
Mail paper petitions to
Green Amendments For The Generations,
925 Canal St, Suite 3701, Bristol, PA 19007
Spread the Word on Social Media
Spread the word on social media to your friends and family and tag legislators.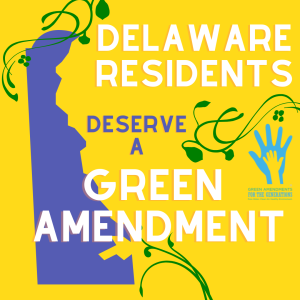 Help us spread the word about the DE Green Amendment! Let your friends and family know what a Green Amendment is and how it can help your community and environment. Share the petition link or action letter. Or tag your legislators and let the know why a DE Green Amendment is important to you. Be sure to use DEGreenAmendment #GreenAmendment or #GreenAmendments4Justice.
Follow GAFTG on Facebook, Twitter, and Instagram to easily share our educational posts and stay up to date.
Write an Opinion Piece or Letter to the Editor
Write an opinion piece or Letter to the Editor to your local paper expressing the benefits a DE Green Amendment.
Help us spread the word about the DE Green Amendment! Let your community members know what a Green Amendment is and how it can help your community and environment.