House Administration Committee Hearing June 14 @ Noon
The Delaware Green Amendment (HB 220) received its first hearing of this year before the House Administration Committee on June 14th and was successfully voted through. Thank you to all who submitted testimony and/or showed up to testify.

The language of the Delaware Green Amendment is simple, clear and impactful reading:
Section 22. The people of Delaware have an inherent and inalienable right to a clean and healthy environment, including water, air, soil, flora, fauna, ecosystems and climate, and to the preservation of the natural, cultural, scenic and healthful qualities of the environment. The State's natural resources are the common property of all the people, including both present and future generations. The State, including all branches, agencies, and political subdivisions, shall serve as trustee of the State's natural resources and shall conserve, protect, and maintain these resources for the benefit of all its people. This provision, and the rights stated herein, are self-executing and on par with other protected inalienable rights.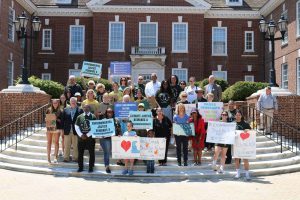 Sign Our Individual Petition
Sign on Your Organization
Sign your group onto the Organization Petition in support of a DE Green Amendment.
If you are a representative of an organization in DE that is supportive of advancing a DE Green Amendment and authorized to sign for your organization, then sign your organization here and encourage support from your members.
Organizations signed on include: Socially Responsible Agriculture Project, Sussex Health and Environmental Network, Green Amendments For the Generations, Delaware Riverkeeper Network, Plastic Free Delaware, Inc., Zero Waste First State, Extinction Rebellion Delaware, Beaver Valley Preservation Alliance, Save The Valley, DEEVA-Delaware Electric Vehicle Association, Citizens' Climate Lobby of Delaware, Climate Reality Project: Newark Delaware Chapter, Delaware Audubon Society, Delaware Working Families Party, Green New Deal Network, and Delaware Food & Water Watch.
Join the Green Amendment Action App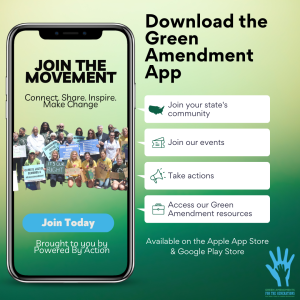 Green Amendments For The Generations has a new white label action app that you can join to be up to date on all of the hot news and action opportunities.  Be sure to join the Delaware Green Amendment Movement page.  You can also join the national page if you want to see what other states are doing. But to be up to speed on Delaware it is important you join the DE community.
You can download the app to your phone from the app store by typing in Green Amendments FTG
Or you can join on your computer via the web by going to this link.
However you join, this will be the best place to stay up to date and engage.
Be sure when you sign up to set the email/push notifications to suit your life style, turn them on, turn them off or limit them.  It's easy and will ensure the best experience.
Spread the Word on Social Media
Spread the word on social media to your friends and family and tag legislators.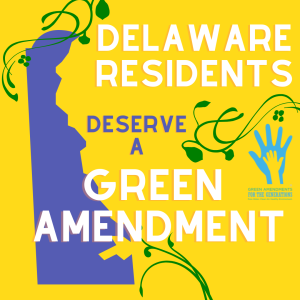 Help us spread the word about the DE Green Amendment! Let your friends and family know what a Green Amendment is and how it can help your community and environment. Share the petition link or action letter. Or tag your legislators and let the know why a DE Green Amendment is important to you. Be sure to use DEGreenAmendment #GreenAmendment or #GreenAmendments4Justice.
Follow GAFTG on Facebook, Twitter, and Instagram to easily share our educational posts and stay up to date.
Write an Opinion Piece or Letter to the Editor
Write an opinion piece or Letter to the Editor to your local paper expressing the benefits a DE Green Amendment.
Help us spread the word about the DE Green Amendment! Let your community members know what a Green Amendment is and how it can help your community and environment.
Encourage Others To Sign the Petition
Help us to build awareness and support by sharing the petition link on social media, or print a copy of the petition and take it with you to work, coffee shops, social gatherings or events, and ask others to sign the petition too. Once you have a completed sheet, be sure to mail or scan and email copies to GAFTG@forthegenerations.org. You can print a copy here.
Mail paper petitions to
Green Amendments For The Generations,
925 Canal St, Suite 3701, Bristol, PA 19007
Donate to support a Green Amendment